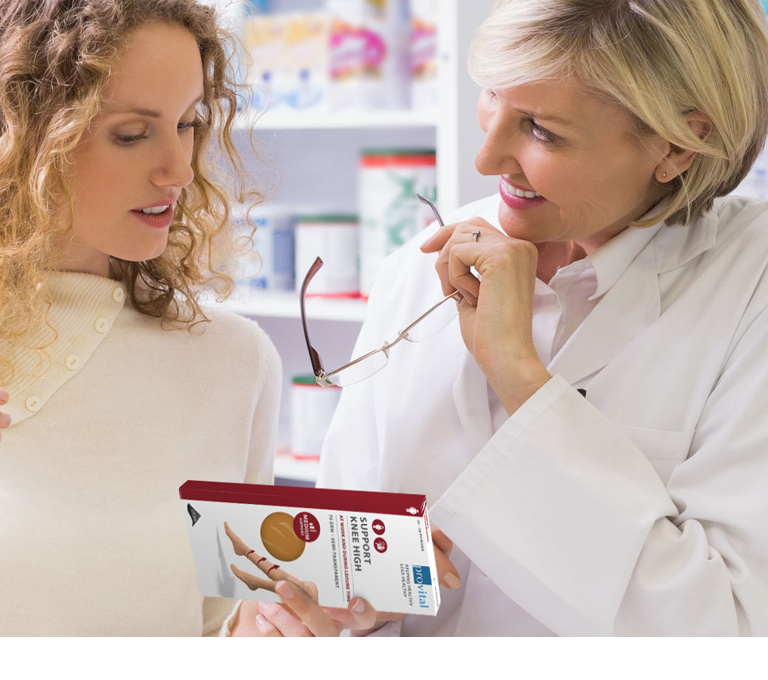 STAY HEALTHY
There is a wide range of support knee high and functional socks available retail. Why should you rely on provital and the promise of "Stay healthy"?
1. Exclusive pharmacy quality
Our aim is to provide you with high quality products at all times combined with qualified advice. That is why you can only get provital support knee high and comfort socks at the pharmacy where you can rely on
high quality
expert advice
a favourable price.
See for yourself at your pharmacy that the provital quality products provide a soothing effect and exceptional wearing comfort. And they look just like conventional stockings.
Your pharmacist will be happy to help you choose the right product for you. And if the pharmacist does not have the desired provital item in stock, it can be ordered for you free of charge within a few hours.
2. Our experience
The fact that provital stockings are very effective and comfortable to wear is first and foremost due to the more than 30 years of experience and expertise of the manufacturer behind our brand: Atair.
As a leading producer of legwear in Germany and Europe, the Atair Group produces fine and cotton socks, stockings and tights for women, men and children. From classic and contemporary fashion items to functional legwear.